The nimble
software package
nimble will revolutionize the way you bring your software to international markets. Lackluster vendor-specific APIs can be replaced for good with a lightweight, high-performance, and robust alternative. For organizations that use multiple languages, frameworks and environments, nimble can coordinate between all of them. You may redeploy a desktop app on the web and keep your localization data without going through any conversion process, or use the same localized strings for a REST API written in Java as well as for your WPF-based desktop app.
The most important principle for the design of nimble is portability. By using a standardized JSON-based data interchange format and keeping the number of distinct implementations low, consistent behavior across platforms is virtually guaranteed.
The editor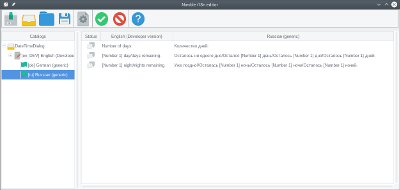 The nimble editor follows a task-centric UI approach, making it a breeze to use even for beginners. Import and export functions from and to all translation memory systems in widespread use are currently in development.
Availability
The nimble library and editor binaries are available upon request. Paid support from Translator Booking is available. Please write to us for details.
≡

Menu